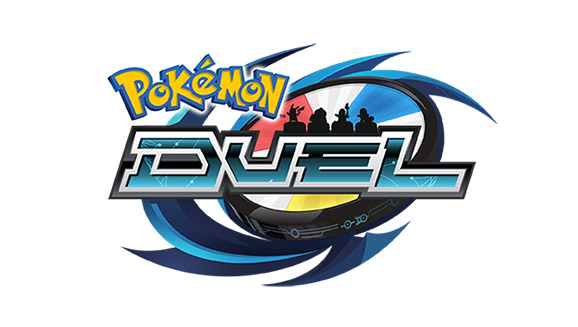 So I only just found out about this game the other day, it's a pokémon game for Android and IOS which is kind of like a board game with pokémon pieces. I'll copy and paste the rules here just to give you an idea:
Game Basics

Game Basics

Pokemon Duel is a game where you place Pokemon figures on the board and try to move them to the opponent's side. Each Pokemon has their own set of moves.

At the start of each turn, you can place a figure on the field at one of the Entry Points.

These are the Poke ball shaped icons on the left and right corners of the board.

pokemon duel board

Each figure also has MP which is the number of spaces it can move in 1 turn.

A Pokemon can move past the entry point on the same turn you place them, as long as there is an open entry point.

MP is reduced by 1 on the first turn.

For example: A figure with 3 MP can move 3 spaces, but only 2 if it is the first turn.

You win by placing your figure on the opponent's Goal Point. You lose if your opponent places a figure on your Goal Point.

When you run into another Pokemon, you cannot go past it.

You must either go around, or battle it.

Battles and Attacks

Let me explain how battles work.

Battles consists of spinning a Data Disk to see which of your Pokemon's attacks is chosen.

If you attack does more damage than the opponent's attack, you knock that Pokemon out.

If you both have the same number, it is a draw and you both stay there.

If you surround an opponent's Pokemon so that they cannot make any moves, that Pokemon is instantly knocked out.

If a Pokemon is knocked out, it goes to the Pokemon Center.

Up to 2 Pokemon can be at the Pokemon center at one time.

When a 3rd Pokemon is knocked out, the first Pokemon that entered the Pokemon Center will be revived.

The newly revived Pokemon must wait 1 turn before it can be used.

Blue attacks are protection moves that will save your Pokemon from being knocked out or hit with status conditions.

Purple attacks have stars instead of numbers. These always beat white attacks.

If both attacks are purple, the highest number of stars wins.

Purple attacks are usually status effects and don't deal damage, so it won't knock the Pokemon out.

Red is a miss, which means anything the opponent does, besides another miss, will beat you.

Gold attacks are similar to White attacks, but they will beat a Purple attack.

Some Attacks can be used from a farther range.

Plates

Plates are cards that you can use at the beginning of your turn. Think of these like items if you have played the handheld Pokemon games.

These are things like max revive, x attack, and awakening. They usually only last 1 turn, so use wisely.
There's a bit more to it than just that but I thought only a short review would be necessary. So yeah, I downloaded it this morning and I've been playing for a while and it's entertaining to say the least, I don't feel like I'd get as addicted to it as I did with Pokemon Go but it's a fun game to just pass the time.