When I first looked into Bound, what immediately stood out to me was it's art direction. I summed it up to myself as a simple, artistic platformer that offered more depth in it's aesthetics than overall gameplay. But upon starting the game for the first time, Bound suberted my expectations by opening not with the stylistic quirks that personate the majority but by putting me in control of a pregnant woman wandering onto an empty beach in the real world. Her goal - a house situated toward the other end - became immediately apparent to me, although it's purpose remained unclear.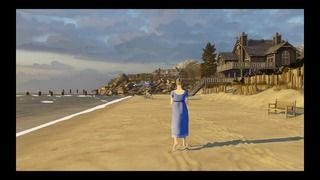 I started to get an idea of it's significance the more she stalled, hesitant to reach her goal for reasons unknown. Each stop along the way opens one of 8 chapters, which you can play through in any order as you flick through her scrapbook. They're short and not all that complex, though these minimalist stages are designed in such a way that caters toward speedrunning.
Basic mechanics involve jumping between platforms, shimmying across ledges, climbing ladders, walljumping and the occasional roll. Slightly less typical are parts where you cling to dangling ribbons used to bridge large gaps or progressing by taking cover against different chunks of environment to avoid being rattled by the threatening roar of an evangelical creature. There are also collectible 'fragments' sprinkled throughout; mostly floating along the main path, certain others - one cluster may sit further out on an isolated platform requiring the rarely needed long-jump for example - ensure that some care goes into your approach, albeit not very often.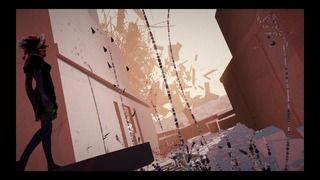 The way your character moves through the world is also unique and a core element in her character. This imagined ballerina is very expressive across both her forthright leaps and bounds and subtle responses to what she comes into contact with. That freeflowing movement paired with a similarly reactionary and flexible world makes Bound a fun and interesting experience. It's short (although if you've an eye for 'gameography' then it's an attractive subject to sink more time into thanks to the intergrated photo mode) but sweet in it's vivid backdrops and emotional story.
Speaking of which, Bound's dreamlike world and character's whimsicle movement through it isn't just for show - it's all there in service of a surprisingly deep narrative. Our titular ballerina is a projection of the woman walking along the beach; the world conceived as an escape from a difficult childhood and those that inhabit it - either to destroy or aid her in saving the'kindgom' - representations of those involved in said family drama. Further understanding of this concept ends up giving you more pause for throught as to how you progress, even informing subsequent playthroughs, giving further context to certain enviromental quirks and indeed dialogue that mightv'e just passed you by initially.
Overall then, Bound is something I recommend you experience at least once as an enjoyably slick platformer and visually unique indulgance and second as a more appreciable tragedy in motion.
Bonus screens below
Just thought I'd give my thoughts on Bound in more depth. Would be pleasantly surprised to find more than 1 other person has played this.