8:


GRAND THEFT AUTO: VICE CITY (PS2, 2002)






It's amazing how music can take you back, isn't it?

I don't know what it is, but whether we know it or not, chances are we all have a "soundtrack to our lives". Pieces of music, whether from real-life artists or from games, TV shows or films, can instantly transport us not just to an experience we had, but to a place in our lives and how we were feeling at that time. For me, I cannot hear the opening beats of Michael Jackson's classic "Billie Jean" without being transported to a cosmopolitan sunny land, a land of sea breezes and pastel-shaded suits. A place where infinite possibilites are open to anyone ruthless enough to take them. A place called "Vice City".




I'm going to hate admitting this, but it's a definite fact so there's no point skirting around it - I was a Nintendo fangirl in a big way. After getting a Mega Drive for Christmas 1994, I didn't get another gaming machine that was non-Nintendo for nearly a decade. I was hooked on Zelda, Pokemon and Starwing, and didn't see the need to get anything that wasn't on a Nintendo system. Now there's nothing wrong with this in itself, but it was more than that - I would refer to the Playstation as the "Greystation", and would refuse to accept any game that wasn't on Nintendo, such as Grand Theft Auto, was any good. I'd practically defend the indefensible, such as how bloody expensive N64 games were, because I wouldn't accept criticism against my beloved company. In short, I kinda wish I could go back and give myself a slap and knock some sense into me!

It was down to one game and one game alone that I ended up breaking my 9 year Nintendo-exclusivity and getting a PS2. And that game was Grand Theft Auto: Vice City.




My first experience of Grand Theft Auto (a game which causes Jack Thompson nightmares, more reason to love it) was way back in 2000, when a friend had one of the Playstation originals. Playing it round his house, we had a riot running police blockades and knocking down a load of Elvis lookalikes (I'm not a sociopath, promise!). GTA III was released in 2001, but the short time I had with it didn't really tick my boxes - the car handling was very heavy, and they blew up far too easily. But Vice City was something else - it seemed so bright, so colourful! Being set in the '80s meant that instead of indie rock bands that no-one had heard of, the radio stations were instead full of electro classics - Hall & Oates, Michael Jackson, Blondie! The handling of the vehicles was improved a hundred percent, and it seemed any time I watched someone play it, there was yet another thing to do. All in all, it was a game which I badly wanted, but alas, it wasn't out for Nintendo. So I relented, and for Christmas 2003 I got a shiny silver PS2 and a copy of Vice City (as well as another game called Kingdom Hearts... more on that tomorrow!)




Vice City is one of the most complex and multi-layered games ever made. The amount of freedom the game gives you is staggering, and is it's main appeal - as an amoral mafia boss, you have free reign to go and be as bad as you want. Naturally, this generated a lot of heat from the media (which I'm sure that Rockstar loved! Free publicity after all), as they were appauled that little Jane and little Jimmy were playing a game where you could murder prostitutes or steal cars. But what they failed to realise that the game didn't just let you commit crimes - it let you do anything. You could go flying in a biplane. You could enter races. You could become a taxi driver. You could play pool. It was a huge, sprawling, living world, and it was your oyster! To paint it purely as a sadistic crime spree is to sell it way, way short.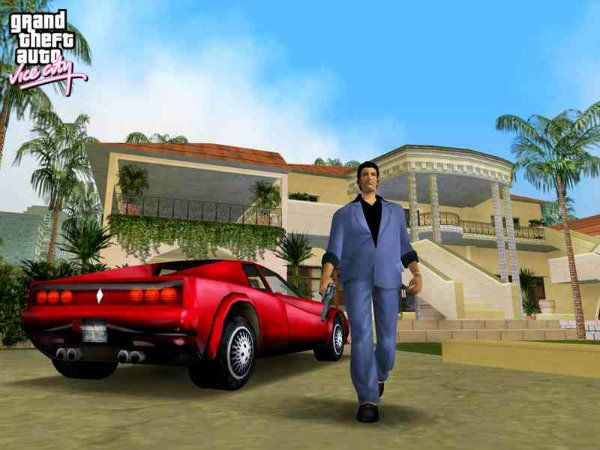 The plot takes its cues heavily from '80s crime films and shows, such as Scarface and Miami Vice. You play as Tommy Vercetti, a mafia member who has just been released from prison after a 15-year stint. Worried his presence might upset the delicate balance between the warring underground crime syndicates, Tommy's boss, Sonny Forelli, sends him to Vice City, Florida, to conduct a series of cocaine deals. One goes bad, and Tommy is then forced to hunt down the perpertrators in an effort to prove he isn't trying to cheat the mafia. So begins the rise of Tommy Vercetti - this is very Scarface, as Tommy goes from bottom-of-the-pile lackey into crime boss in his own right, complete with huge mansion!

Along the way you'll meet with many colourful characters including local criminal Lance Vance, dodgy British record producer Kent Paul, real estate mogul Avery Carrington, drug dealer Juan Cortez and his temptress of a daughter Mercedes, adult film star Candi Suxx, and plenty more besides. Despite being an over-the-top charicature himself, Vercetti's meetings with these people are often priceless, forced to play the straight man against the madness they manage to get him further into.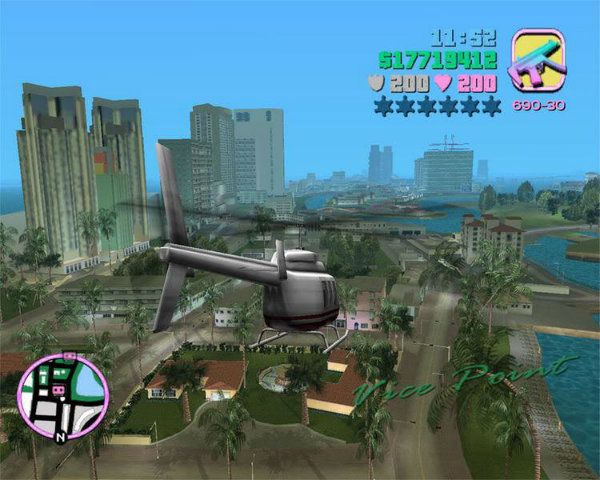 If you have any semblence of a sense of humour, the game will have you laughing out loud the whole way through. Even with the superb '80s soundtrack, some of the best radio stations to tune into are the chat shows. Here you'll find some excellent satire ("The world is run by men! Look at Gorbochev, Reagan, Thatcher!"), as well as commercials which have their tongue firmly in their cheek. There's also some immature innuendo in there too, which I will admit got me giggling occasionally (such as the "Cherry Poppers" ice cream company - hard to believe this is the same company which made Lemmings!)




What this game gave me was an expansive world like no other, and the freedom to explore that world. The whole game is done in soft pinks and luscious sunsets, which makes it feel warm and inviting. The soundtrack is absolutely amazing (have I mentioned that yet?), to the point where I actually went and purchased the CDs of 2 of the radio stations (Wave 103 and Flash FM if you're interested). I had as much fun as running legit businesses such as taxi driving and demolition derby racing as I did messing around - one of my favourite past-times was starting a fire, hijacking the fire engine then running up and down Washington beach and ramming people on mopeds who are now hopelessly outmatched (as I said before, I promise that I'm not a sociopath!). Having been to the real Vice City recently (Miami, Florida) I can say that Vice Beach is a faithful recreation of Miami Beach, and it was a dream come true to be there!




There are people reading this who will say "What about San Andreas? Surely that's a better game?" And to them I'd say "screw you poo-face, this is my list!" But an effort to be more mature, I'll respond instead like this; yes, San Andreas was a better game. It was longer, bigger, more varied, more vehicles, bigger missions, and no in-game loading screens. But do you know why I put Vice City ahead of it? Because this isn't "the best games ever" list. It's my favourite games ever. And that's a huge difference. Vice City will forever have a huge place in my heart because, at a time in my life where everything was going wrong, it was pure escapism at it's finest. It also reintroduced me to gaming outside of Nintendo for the first time in 9 years, which led the way for me to experience Burnout 3, Red Dead Redemption, Virtua Fighter 5, and loads more. And let's face it, '80s music is so much better than '90s music!

And when it's all said and done, any game that pisses off Jack Thompson and Richard Madeley has to be good, hasn't it?