I was considering staying out of this, but since Matt called me out, and watching Richard make a mess of trying to argue the right-wing side of the arguments pains me, screw that.
Far too many comments to reply to directly, but lets start with Labour's much-vaunted "costed" manifesto.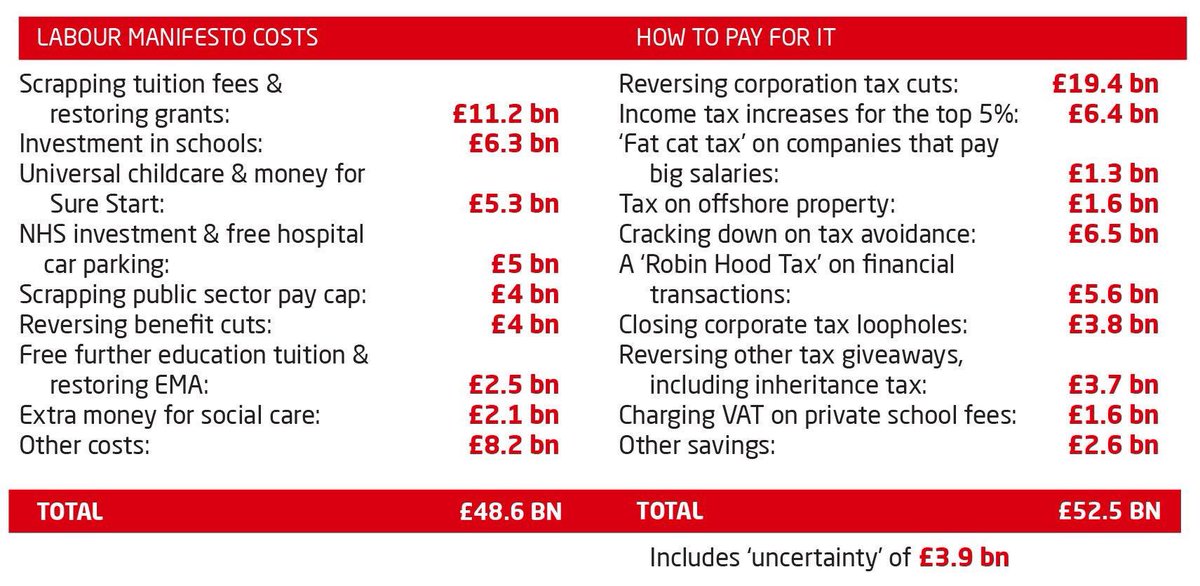 To run down that list of where the money comes from:
Increase corporation tax
- This is the big one. This breakdown doesn't specify but I believe the plan is for a 26% rate. This would place us above the European average,
the EU average, the Asian average, the OECD average and the global average (source:
https://home.kpmg.com/xx/en/home/servic ... table.html
) Sure we'd still be below France, Germany and USA among others, but Macron intends to cut the rate to 25% (source:
http://www.bbc.co.uk/news/business-39841164
), and that German rate is an average, with some parts of the country as low as 22.83%. Not 100% sure on Trump's plans, but I wouldn't be surprised if he cuts rates too. As such we would almost certainly wind up above our 2 main local rivals. In a world where the big corporations can move abroad with minimal difficulty, that's a dangerous move to make. (Having sat an advanced tax exam on Monday, 40% of which wound up being on companies migrating overseas I like to think I can say that with reasonable authority). Do we need to continue cutting the rate, probably not, but there are strong arguments for keeping it where it is now.
I would also point to the Laffer curve, which effectively states that after a certain point tax takings will decrease as tax rates increase. While Laffer sadly didn't bother to state what this point is, the fact that we have seen tax takings remain consistent from 2010-2015 despite consistently decreasing rates and no substantial economic growth implies the sweet spot is somewhere in that period (At a guess I'd say about 22%, but that's a guess). I'll ignore the substantial increases in the last couple of years since that is most likely driven more by economic growth than the decreasing tax rate.
Finally, lets think about how businesses are going to react to an increase in tax rates, even if they stay in the country. It shouldn't be too controversial to state that businesses exist to make profits for their shareholders. As such they will be heavily incentivised to try and maximise their after-tax profits, and since I'm doubtful as to how much further can be raised in anti-loophole legislation, for reasons I'll get to alter, they'll most likely do this by cutting costs. For better or worse, firms generally can't greatly reduce their raw materials intake, their fixed costs are, well, fixed and investment in machinery and the like is generally only done if it will have a net economic benefit. That leaves one obvious place to save money, and its by reducing, or at least freezing, the wage bill. Whether by laying staff off or by cutting wages, the people who lose out from a corporation tax hike most-likely won't be the shareholders, it will be the employees.
Income tax increases for the top 5%
- You know who like increased taxes even less than companies? The rich. And there are far too many ways for them to reduce their tax bills for me to bother listing them all. Most obviously, having their salary increases paid for in pension contributions/corporate share schemes, both of which avoid income tax completely legally. Alternatively having their salary paid in dividends (rates of 0/7.5/32.5/38.1%, rather than standard income tax at 20/40/45%) would also work. In fact, you know the people who would be worst hit by the rises? The standard, albeit well-off, employees, who don't have enough sway in their companies to get these advantages (although there are no doubt others I can't be bothered to think of right now which might be available). This wouldn't so much hit the top 5% as percentages 3-5, and would therefore make rather less than Labour are banking.
Fat-cat Tax
- See everything I've said above. Pretty much all still applies.
Tax on offshore property
- This refers to the Offshore Company Property Levy, which intends a 15% tax rate on companies which are based in known tax-havens buying property. Instinctively I'd say the intended income from this seems high, and I would imagine companies would at least try to use shell companies not based in tax havens to buy the property through, but can't say too much on this otherwise. Not necessarily a terrible idea.
Cracking down on tax avoidance
- This has been the Conservatives' magic money tree for the last few years as well. Is there tax avoidance, god yes, see everything I wrote under income tax, and those are the less controversial options. But after the Tories have been pushing this for the last few years I highly doubt there's anything like £6.5bn left to gain.
Robin-hood tax
- This is a 0.5% tax on share transfers. You know what that is. Stamp duty. That tax which has been in existence since I believe 1986 (Can't find an online source quickly, but Hardman's tax tables say 1986 so lets go with that). There are ways to avoid this, but they revolve mostly around newly issued shares or unit trusts, neither of which are big with the high-flying banking community this supposedly targets. In other words, this is a complete nonsense.
Closing Corporate Tax Loopholes
- This is an interesting one, because there really aren't as many corporation tax loopholes as people like to suggest. Flicking through Labour's manifesto, this appears to relate to transactions with no economic substance. Again, that already exists, and is called the Diverted Profits Tax, which actually taxes those transactions at a higher, 25%, rate. Therefore I'm not entirely sure what Labour are hoping to achieve by presumably having these caught within standard corporation tax at 20%. I could also raise transfer pricing rules (preventing groups from transferring materials between group companies at below market rate to gain tax benefits) and controlled foreign company rules (basically stopping firms paying tax in a tax haven while being run from the UK). Suffice to say I'm sceptical there's much to gain here.
Reversing other tax giveaways
- I believe this relates to Inheritance tax (Nil-rate band increased substantially) and Capital gains tax (rates now 10 & 20% rather than 18 & 28%). On the latter, this will categorically not greatly impact the rich, because the big money in capital gains usually comes from selling companies, and this has a special 10% rate called Entrepreneur's relief, which labour don't intend to touch as far as I can tell. Otherwise this might actually work, but since you're missing the big bucks it won't raise as much as they hope. Inheritance tax has so many loopholes its actually funny. The big one is Business Property Relief, which offers 100% inheritance tax relief on business assets, and more importantly unlisted shares (which strangely includes AIM listed shares). In other words, anyone who either understands Inheritance Tax, or can afford to hire an accountant who does, can quite happily avoid paying much at all without worrying about the Nil-rate band. Again, Labour seem to have no plans to touch this. As such again you're primarily hitting the middle class, and perhaps lower class who happen to own property, and it certainly won't raise the money labour hope.
VAT on private school fees
- Nothing inherently wrong with this, except I'm not sure how easy it will be legally. Currently private schools are zero-rated for VAT through being charities (I assume, if not then they'll simply use this to avoid VAT anyway). To get around this they would likely have to stop charities being tax exempt, which is obviously a bad idea, stop private schools being charities, which is a legal minefield, or put a specific exemption in, which is an even bigger legal minefield.
Renationalisation of energy companies
- This isn't actually on that costings sheet, and that's the problem. Centrica alone (better known as British Gas) has a current Market Cap of £10.77bn, and it would cost a damn-sight more than that to actually buy the entire company. The total market cap of National Grid, the 6 big energy firms and the water companies would be £167bn (source:
https://www.theguardian.com/politics/20 ... t-benefits
). To suggest that it will be possible to do this for free through government bonds is laughable. Sure these are profitable companies, but the history of nationalised industries in this country is massive waste and low profits or even losses, so its hard to say how likely that is to last. Even if it does, the initial investment would probably be upwards of £500bn, which isn't accounted for in the slightest.
Now to a few specific points:
RichardUK

wrote:

↑

Wed Jun 07, 2017 1:14 am

I believe read it on Centre for Policy Studies think tank, they also said that the manifesto was "economically crazy".
Technically I believe the Labour manifesto only pledges to investigate a Land Value Tax, and the maths is more like 3x more on the average home. The "economically crazy" line is true though (source:
http://www.cps.org.uk/publications/fact ... q/ref-127/
)
Can't be bothered to go into the benefits issue at any length, because there's no way to seriously debate it without grotesque oversimplifications. Generally speaking I think there needs to be a maximum that is enough to live on but won't support a cushy lifestyle, and that the few scroungers should be clamped down on. On the whole though, there is nothing wrong with benefits.
Pretty sure that covers most of the last couple of pages, directly or indirectly. Also:
LostNoob

wrote:

↑

Wed Jun 07, 2017 5:10 pm

I'm not a fan of Corbyn, honestly, I think that he's a bit eton mess, I think I've probably gone on quite enough about why I think electing him as leader was a bad idea.

But compared to May, he looks like a bloody political heavyweight.

Compare the two campaigns, and tell me you think Theresa May is the credible candidate for PM.

The Tory election campaign has been shambolic, with plenty of gaffs, U-turns and scandals, with May coming off as anything but strong and stable, backing out of interviews, hiding away from the general public, only allowing Tory activists to attend Mays public meetings.

The Tory manifesto has been widely slated, even by Tory supporters, it's a dangerous, un-costed mess of a manifesto.

Even Tory MP's have called this the worst Tory election campaign in history, with May's future in doubt, even if the Tories win this week.

In contrast, Labour's election campaign has gone off, mostly, without a hitch.

Corbyn is a much more confident public speaker than May, and has actually put himself out their, talking to the members of the public, making his views known, and whoever had the idea to "leak" the manifesto was a genius, that manifesto effectively got two launches, getting twice the coverage, and that worked, Labour's bounce in the polls happened around that time, and the campaign has only continued to gain momentum.

It wouldn't be too surprising if Labour actually made some serious gains tomorrow night, it has been a far better election campaign than the pretty dull 2015 one.

Still, I can't help but feel that, if it wasn't for Corbyn, Labour would be winning this election right now, and if it wasn't for May, the Tories would still be heading for a landslide.
You know what, I actually agree with all of this, except I actually quite like Corbyn personally. Who'dathunkit.