Killer Instinct (SNES, 1995)


YEEEEEEEEEEEEEEEEEEES!!!!! XD

There are some things you look forward to, and man have I been looking forward to this! Killer Instinct was one of the best games of my childhood, and one of the best fighting games of all time. As anyone who read the other thread knows that my favourite ever game is Street Fighter II. And whilst nothing will ever match the brilliance of that in my eyes, I do have a slew of fighting games on the SNES which are also top notch; Teenage Mutant Hero Turtles: Tournament Fighters, Ultimate Mortal Kombat 3, and SF Alpha to name just a few. However, I think there is only one which comes close to matching the perfect of Capcom's classic, one which matches the blood of Mortal Kombat and the combos of Fatal Fury. That game is Rare's "Killer Instinct", and in a age where "Rare" was a buyword for "quality", their great form was on show once again.




If you've played previous fighting games, then you'll know the set-up here. Daft plot (this one has a future arms manufacturor called "Ultracorp" testing out it's bio-weapons in fighting tournaments) brings together the cast of characters. But unlike other fighting games which tend to be a bit karate/ninja-heavy (Mortal Kombat I'm looking at you!), Killer Instinct has quite an interesting array of fighters to choose from: you have various "normal" characters such as the boxer (T.J. Combo), American Indian (Chief Thunder), and the token women (B.Orchid, who is awesome!!!), and some very outlandish ones, such as human fireball Cinder, human/dinosaur hybrid Riptor, Glacius (who is made entirely of Mini Milks) and for Twilight fans, Sabrewulf.

The reason this game differentiates itself from the plethora of other fighters at the time was because this game plays just damn incredibly. Seriously, it's one of the best beat-'em-ups of all time. Part of this has to do with just how tight the gameplay is; a lot of the moveset is taken from Street Fighter (especially Jago's), so it'll be familiar to any fighting fans out there. But the way you could chain combos together is truely unique, and is probably what people remember most about the game.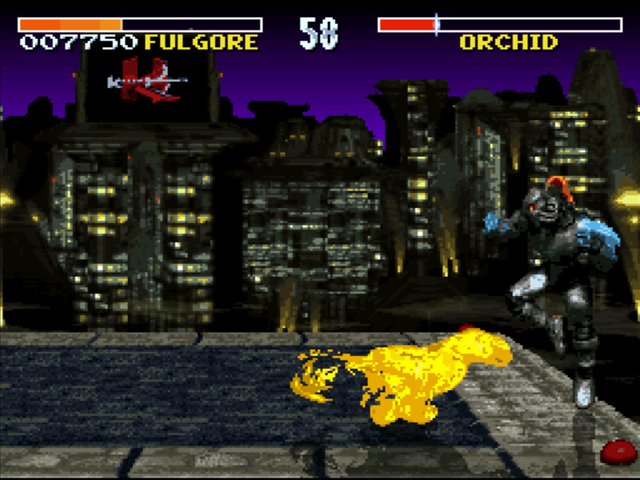 It's possible to chain moves together in Killer Instinct to a ridiculous degree. This isn't your simple "dragon punch into a leg-sweep" combo here, no sir. This is more "chain together every move in your arsenal until your opponent is a bloody pulp" combo. Because all the animations are automated, all you have to do as a player is input the button presses, then sit back and watch the amazing carnage unfold. However, to prevent you getting caught in an endless combo as a player, Killer Instinct introduces a "combo breaker". This is a move which cuts your opponent off right in the middle of their combo, and allows you to counter. It's quite hard to pull off (although the computer on the harder difficulty settings spams them religiously), but they're very useful, and you'll feel like a boss when you do!

Unlike other fighting games which go for 2 rounds, Killer Instinct gives you 2 life bars instead. Only by depleting both of your opponents health bars can you win (do it without losing one of your own to get a "Supreme Victory"). When your opponents health bar is on it's last legs and goes red you can pull off the "Ultimate Combo" (a combo which ends in a fatality), or knock your opponent off the stage. This obviously has shades of Mortal Kombat, but trust me when I say Killer Instinct is leagues ahead of any Mortal Kombat game ever,




I tend to avoid talking about things such as graphics and sound, as I feel these things are generally secondary to the experience of how a game plays. But Killer Instinct is utterly gorgeous, mind blowing graphics for it's time (even if it had to be turned down to port it from the arcade). Animations are slick, blood flows lavishly, and the pre-rendered fighters look sublime.

But the absolute best part of this game is the audio. Killer Instinct has, without exagerration, one of the best soundtracks to any game on any console ever. The original game came with a CD, "Killer Cuts", which had each of the stages as it's playlist, and boy was that a treat! Riptor's theme, in particular, is utterly incredible, and mixed with the eery fog and blood-stained floor of an underground pit, come together to create the most atmospheric fighting stage in all of gaming. But you could put any of them there: Jago, Spinal, Glacius, they're all superb. Added to that the satisfying voiceover decreeing every combo you pull off, you have an absolute banquet of audio delight.




The term "hardcore game" is just a buzzword now, but this is what passed for hardcore back in 1995. Trust me when I say this game will happily kick your ass, but you'll love it so much you'll return time and time again. This game was so good that it got a port on the Game Boy (sadly without a snazzy black catridge like it's SNES counterpart), and a sequel in both the arcades and on the N64 called "Killer Instinct Gold", which was also awesome. Sadly, due to Rare and Nintendo's acrimonious split (which was worse than Nintendo's one with Squaresoft) this game seems unlikely to ever come to Virtual Console or even XBLA (which is has been teased for six years now!). But if you can track down the SNES original or it's N64 sequel, I would heavily recommend it, as very few fighters reach this benchmark.

Of course, the easiest way for Rare to rectify the lack of Killer Instinct on XBLA would be to make a sequel.......

(please?)