The visual novel reading club
Hello and welcome! In this thread, we discuss all aspects of the wonder that is the visual novel (VN), from the latest releases, to beloved classics, and even those soon to be hitting the shelves.
What are visual novels?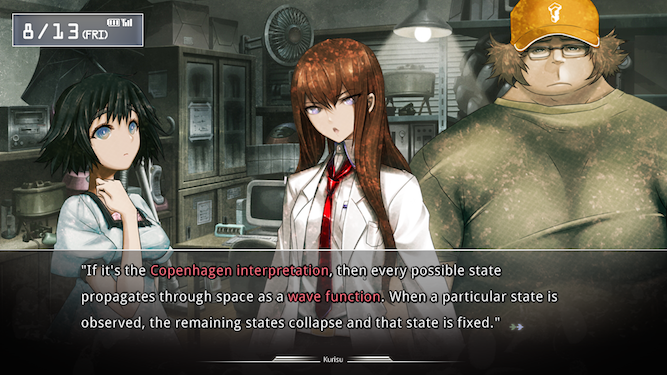 Steins;Gate
The visual novel is a new medium for conveying the written word (and they're not actually that new — they've been around since the early '80s). At a fundamental level, you could consider them to be a sort of eBook, in that they are writing encapsulated as software. However, whereas most eBooks are purely focused on text, visual novels complement it with dynamic illustrations, audio, and often some element of interactivity. The end result is an enhanced reading experience quite unlike that of reading a physical paper book.
Because many visual novels are interactive in nature, and also because for many years game consoles were their primary outlet, visual novels are often considered to be a subset of video games. This is not entirely accurate however, as the focus with visual novels is usually on reading and enjoying a story, not on playing a game. Thus, it may be more appropriate to consider the visual novel to be a medium in its own right. Visualising a two-set Venn diagram with one set being the video game and the other set being the visual novel may help with understanding this idea. The intersection between the two sets contains a large number of video games that are also visual novels, however there are also many visual novels that are not video games, just as there are many video games that are not visual novels.
At this point, it may be appropriate to give some mention to pornography. It is true that there are many visual novels featuring sexually explicit content. This is possibly surprising or even shocking to those unfamiliar with Japanese culture, but this isn't something to be considered unusual. These
eroge
(a portmanteau of "erotic game") include popular titles like
Fate/stay night
and
Little Busters!
, which were later adapted into other media such as anime. Even companies like Square and Enix made their starts developing
eroge
. It should be noted that for many of these visual novels, the erotic element is only a small part of the total experience. As such, this content is more of a bonus than anything substantial. Of course, there are also visual novels where sex is the main focus, just as there are visual novels that do not feature any sexual content whatsoever. In short, there is a visual novel for everyone, regardless of their preferences regarding porn.
TL;DR: Visual novels are like books. But better. And they live on your PC, game console or mobile phone.
How do I get started?
That's a good question. And we've got a good answer (we think). Here is a carefully curated selection of visual novels considered ideal for someone interested in trying out visual novels. All of them have been officially released in English. Please click on a visual novel to go to the appropriate website where you can acquire it.














We have attempted to select a diverse variety of visual novels. If you have any comments on these recommendations, please let us know in a reply.
Glossary
ADV — Short for "adventure". A type of visual novel where the text occupies a small box at the bottom of the screen, allowing for an unobstructed view of the illustrations.
bishoujoge — Literally "pretty girl game". A game that focuses on pretty girls.
dating sim — Statistical-based simulation game with the objective being a character's heart. Has almost nothing to do with visual novels.
eroge — A game featuring explicit sexual content. Can refer to any game meeting that description, not just visual novels.
NVL — Short for "novel". A type of visual novel where the text occupies most of the screen real estate, allowing for a greater focus on the text.
Useful websites
[Thanks to
Silver light
for assisting with the creation of this thread.]
[For argument's sake, our definition of a visual novel is equivalent to
VNDB's
, i.e. if there's an entry for it there, you're free to discuss it here.]